We can custom sock and wholesale sock with good price for you!
We are direct sock manufacturer, our service including wholesale socks and custom different style sock. wholesale business you can choose from our catalog and website, we can mixed wholesale bulk order and small order.
Custom sock service we can custom any style or any design of you want. with lower minimum quantity and good price. we can custom such as logo, color, size, material, and packaging. welcome to send email to us.
Contact us now!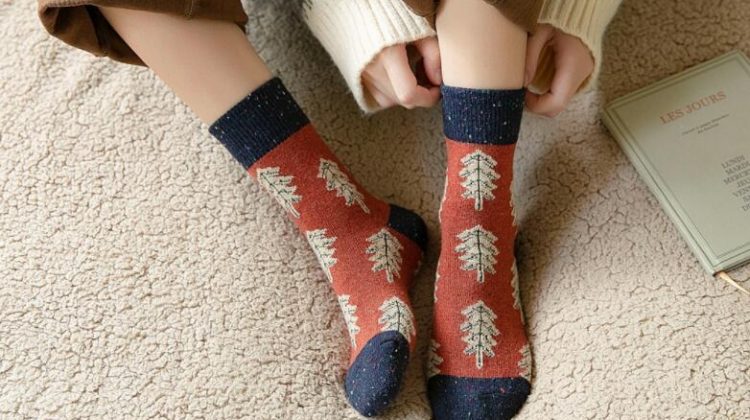 Women's socks are divided into no show socks, ankle socks, crew socks, high knee socks, etc. Compared with men's socks, women's socks will have more colors and styles, and there are many types.
Men's socks are divided into no show socks, crew socks, ankle socks, etc., the color of socks is relatively not so much, mainly dark and white. The size, color and material of the socks can be customized.
Sports socks and printed socks are mainly customized. If customers want to customize, you can tell us the pattern, size, color and material of the socks, and we will serve you wholeheartedly.
It mainly refers to yoga socks, wool socks, hosiery, huzzy socks, etc. These socks are mainly used in specific places or environments to protect or keep feet warm.
Leopard print furry socks
Material: polyester fiber
Color: black, brown, white, brown, yellow, etc.
New cotton children socks for sale
Material: Cotton
Color: blue, pink, yellow, green, etc.
Lace baby socks wholesale
Material: Cotton
Color: white, blue, pink, yellow, black, etc.
Men's sports full casual socks
Material: combed cotton
Color: black, gray, white, brown, yellow, etc.
3-15 years old cotton socks
Material: combed cotton
Color: brown, gray, pink, beige, green, etc.
Sock material introduce
1. Cotton socks: Usually we like to choose cotton socks. His advantages are: soft and comfortable, warm, sweat-absorbent, non-slip soles and insoles, durable.
2. Spandex socks: Spandex is a commonly known elastic fiber with high elasticity and strong elasticity. The composition of the socks must contain spandex to make the socks elastic and retractable.
3. Nylon socks: The advantages are smooth surface, lighter, durable, wear-resistant, easy to wash and dry, good elasticity and flexibility, and cheap.
4, bamboo fiber: comfortable feel, and wear-resistant, can not afford the ball, moisture absorption, quick-drying, breathable. it has good antibacterial properties and health effects.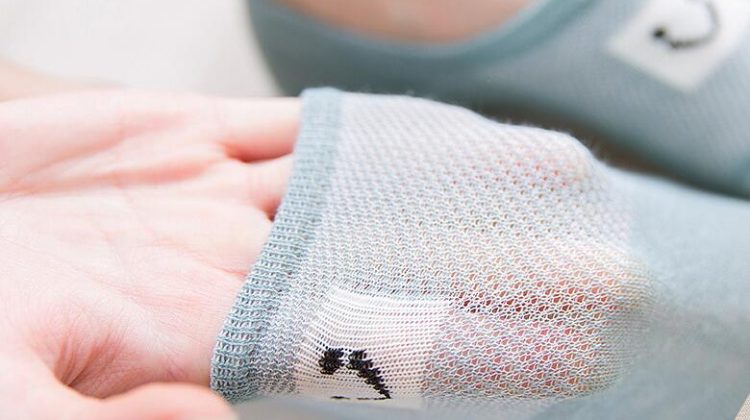 Design template for reference!
1: The design of the socks includes the size of each part of the socks, including sole, toe, instep, front, back and cuff. The size and printing of each part need to be designed. In addition, you need to design pantone colors, packaging and so on.
2: You can design your socks according to the template provided by us, or directly provide the patterns and logos that need to be printed, and we can design and produce directly for you.
3: It takes 5 to 10 days to design and make samples. We will make samples as soon as possible.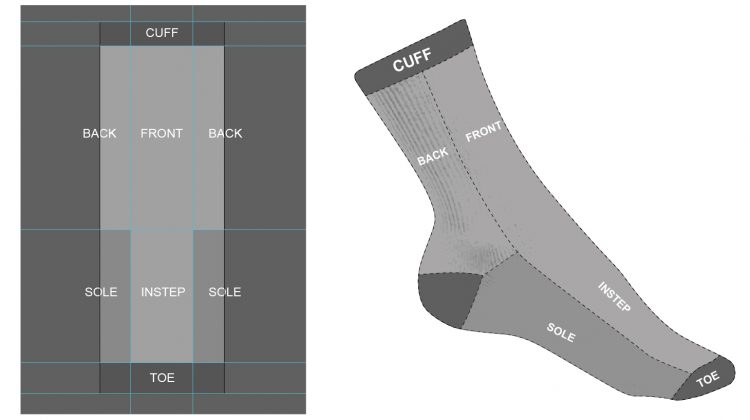 Custom printed sock, 3D printing!
Digital printing socks can print any pattern on the socks, which is very trendy. His advantages include:
1: Strong customizability: There is no need to consider the complexity of color at all. This is the biggest technical advantage of digital printing socks different from traditional jacquard socks.
2: Low order quantity: Fully meets the market development trend of small batch high-quality customization.
3: Strong stability: After finishing digital printing, the socks have very stable chemical properties through color fixing, and there is no problem of fading at all.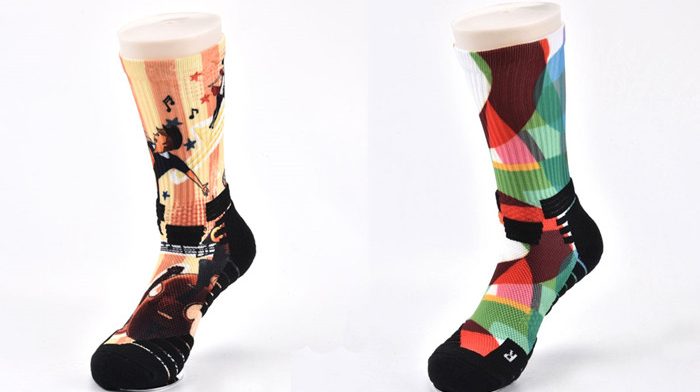 Sock logo and size introduce!
1: Our logo includes different crafts: such as embroidery, knitting, printing, sewing. And so on a variety of different processes to meet the different types of customer needs. The quality is very good and the price is also very good.
2: Our socks can be customized in any size from baby to adult size to meet the needs of various age levels, as well as a variety of different lengths. Such as No show, invisible, crew, Quarter, high knee sock.